---
Call 912-437-7711 to register for classes or
email maaidirector@darientel.net
---
The Ancient Technique of Book Binding
Thursday – Friday, August 24 – 25 (with Sat. 8/26 if needed), 9-1
Jeanne Leonard supplies all of the decorative papers, hard covers, linen binding yarn, charms and 'know-how' to create these unique and personalized books.  They make exquisite gifts for journaling, recipes, sketching or whatever you can come up with.  As a bonus, Jeanne will teach how to make paper beads to embellish your book!  $60 members // $70 non-members.  Register by Thursday, Aug. 17.  ***Bring a snack.
SUPPLIES: 9×12 tablet of 120 lb. weight paper with at least 30 sheets
---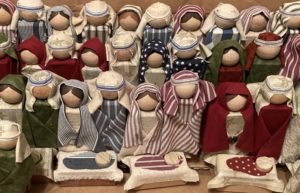 FREE CHRISTMAS CRAFT WORKSHOPS
We provide the supplies and instructions while you have fun learning a craft and helping us build up our supplies for our Christmas Bazaar Fundraiser later this year.  You keep the knowledge or instructions but leave your craft for MAA.
Thursday, Aug. 31, 6-8 pm:  Help us make these folksy, woodblock nativity sets.  We provide the wood, and you "dress" these adorable sets in their coordinated homespun fabrics.
Let us know if you plan to attend.
---

MAA members enjoy full use of the pottery room for $10 per session or $25 per month. Staff is available for studio work on Wednesdays, 11-3.