Director's Edition:  Spotlight Show for Linda Humphries
with reception on Friday, December 9, 5-7 pm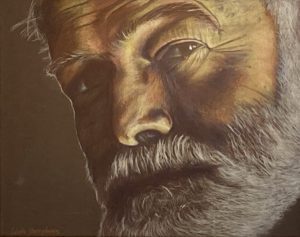 After eight years in McIntosh Art Association's Old Jail Art Center office, director, Linda Humphries has progressed into the Spotlight Gallery with an exhibit of her oils, acrylics and pastels, capturing portraits, landscapes, still life and figures. 
About Linda:
After seeing 'Star Wars' as a child, I aspired to become a computer graphic artist: a field that I soon learned was in its infancy for artists.  I concentrated in photography, illustration, and design at LaGrange College.  It was a good basis, but I was single-minded with my career choice, so I enrolled at the Art Institute of Atlanta, which offered a brand-new computer graphics course (256 colors on a Sperry desktop!).  Due to some persistent tugging on the right sleeves, I managed to gain an internship–which became a career–producing computer graphics and animation for a video production company in Atlanta.  It was my dream job and allowed me to "draw in light" as I described computer art before it had a well-known name.  I rode the technology/dot-com wave for over a decade, then felt the wipeout when the tech bubble burst.  But dream-job #2 was waiting for me—motherhood!
As my daughter grew, I ventured into hand painted crafts, sewing, making tin can lanterns with a cutting torch, and sculpting house ornaments out of polymer clay.  Later, as a pre-school teacher, I had to devolve back to the very basics of arts & crafts…and patience.  Try coaxing a two-year-old to thread a piece of yarn through a penne noodle after years of creating on demand!  Nonetheless, it was a very rewarding job.
I was fortunate to grow up in a small town (Hampton, Ga.), living on a lake and I spent many hours studying the 'moods' of the water.  When I picked up a paintbrush instead of a stylus after so much time away, I found that my years of drawing on the pixel level had given me patience to paint with more detail.  I enjoy trying to capture reflective surfaces and how the light plays.
I have always been drawn to the weathered docks, rustic architecture, and natural beauty of the coast.  It was a holiday destination I spent my life hoping to make my home.  That dream came to fruition in 2013, when my husband, David, daughter, Olivia, and I made the move to Darien.
I have found a wonderful small town with a community of artists–and I have another dream job.  You will find me in the director's office of the Old Jail Art Center, where I get daily inspiration from these creative people.
The exhibit will run through January 31, 2023